Curious about what's happening in the Irish housing market?
Wondering whether property prices will continue to rise or if a drop is on the horizon?
Look no further! In this blog, we'll unravel the latest insights from the Society of Chartered Surveyors Ireland (SCSI) Residential Property Mid Year Market Monitor 2023 .
Join us as we explore the trends and factors shaping the Irish housing market, giving you a clearer perspective on what lies ahead.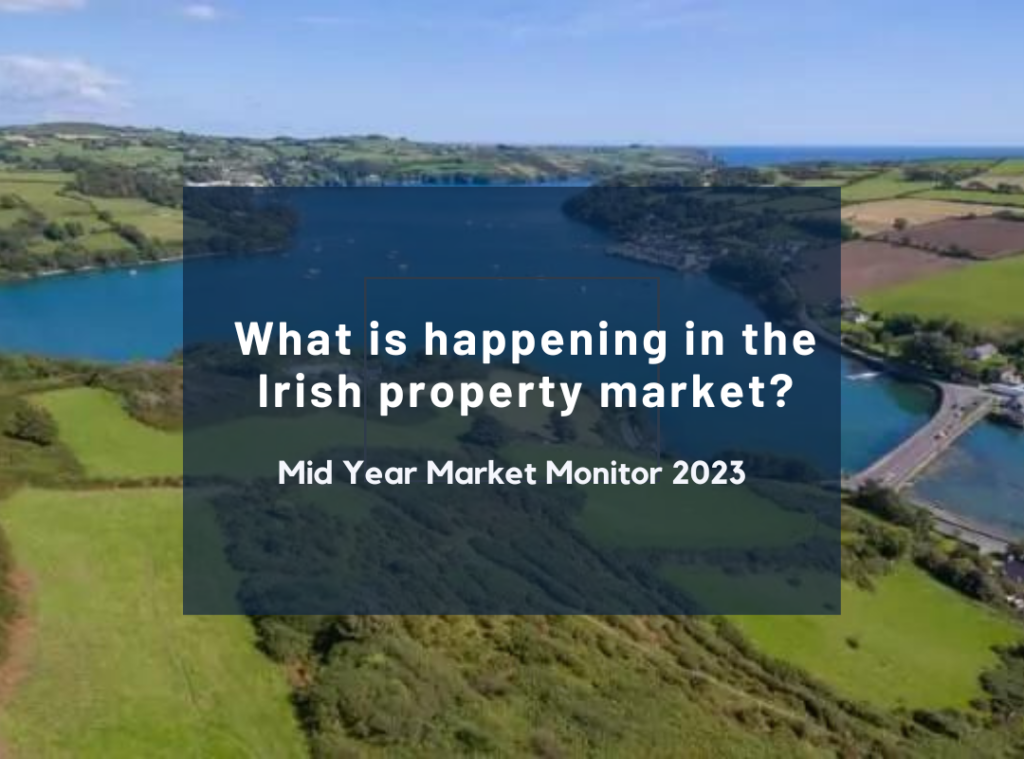 SCSI Residential Mid Year Market Monitor – Key Findings:
Supply constraints: challenges in meeting housing demand
Since the launch of Housing for All Plan, there has been a significant increase in new housing completions in Ireland. In 2022, the number of completions reached 29,851, a remarkable 45% surge from the previous year's 20,553 completions. However, despite this improvement, the completion levels are still lagging behind the required annual target of 33,000 units.
The shortage in housing supply can be attributed to constraints such as labour and material shortages, along with rising construction input costs. The SCSI has identified soft costs as a major contributor to the overall cost of delivering new homes. The government's initiative to waive development levies on new homes is a positive step, but more efforts are needed to address planning, procurement, and utility connection charges to further boost housing supply.
Property Prices in Ireland
Residential property prices in Ireland have been experiencing a steady increase, with a year-on-year rise of 4% as of April 2023. While this growth is positive, it marks a significant reduction compared to the 14% increase recorded a year earlier. Market factors such as insufficient new home construction, banking changes related to interest rates and credit availability, and economic fluctuations continue to underpin expectations on property values.
Estate agents who are members of the SCSI expect national property prices to increase by an average of 2% over the next twelve months
Buyer Trends: Enquiries and Viewings on the Rise
In Q2 2023, agents observed a modest increase in the number of sellers initiating property sales, indicating a positive trend compared to the end of Q4 2022. The rise in housing completions during 2022 has correlated with an increase in enquiries and viewings (+29% net balance). Although this upswing is a positive indicator, it remains lower than the sentiment noted in the same period in 2022 (+44%).
However, the completion rate of sales has decreased, suggesting that more sales contracts are falling through. These cancellations can be attributed to various reasons, such as boundary or title issues, or difficulties in securing funding.
Delays in the Sales Process: Impact on Housing Supply
Conveyancing delays have been identified as a contributing factor impacting the available housing stock in the market. These delays prolong the transaction process, causing properties that could be available for sale to remain with their current owners. Additionally, property transactions often involve a chain of buyers and sellers, and any delays in one part of the chain can have a domino effect on subsequent transactions, exacerbating the supply shortage.
Irish Housing market – final thoughts
The Irish residential property market is experiencing both opportunities and challenges. While there has been a significant increase in new housing completions, supply constraints and market factors are influencing property values. Buyers are showing interest, but sales completion rates are decreasing due to various reasons, including delays in the sales process.
Addressing the supply-demand dynamics and overcoming market challenges will be crucial for fostering a balanced and sustainable residential property market in Ireland. The industry stakeholders, including the government, local authorities, and property professionals, must collaborate to drive positive change and ensure access to affordable housing for all.
Is it a good time to sell your property?
Selling your home is a big decision and there are a number of factors to be taken into account. Firstly you need to ask yourself why are you selling? Do you need more space? Are you downsizing? Can you afford to move?
Secondly you need to find out how much your property is worth. At DNG Galvin we provide a Free sales appraisal.
There is no right or wrong time to sell your home, its down to ones individual circumstances. However if you want to achieve a high price for your property, now is a good time to sell when the the market is strong.
Thinking of selling your property in Co. Cork?
The DNG Galvin team services Bandon, Kinsale, Clonakilty, Courtmacsherry, Ballincollig, Bishopstown and surrounding areas throughout Cork City and West Cork.
Please register your details here and our Client Services department will be in touch to see how DNG Galvin can help. Alternatively, call DNG Galvin on 023 8844958
Check out our blogs section for sellers tips, buyers tips, market updates and advice on how to prepare your property for sale to ensure it achieves top price.
Read the full market monitor here