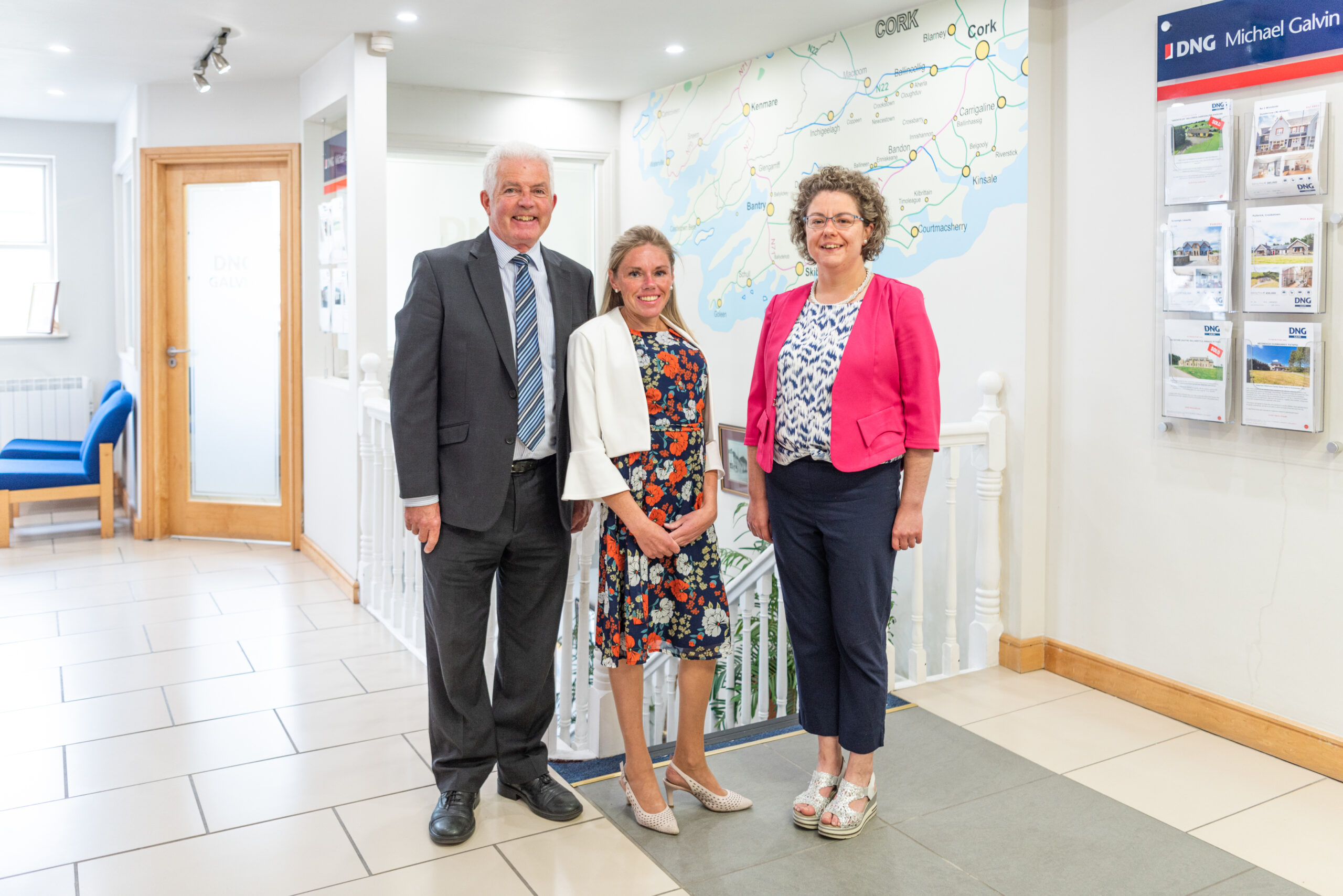 Selling your property in Cork and West Cork.
Selling your home is a big decision, and at DNG Galvin we understand the paramount importance of securing the best possible price for your property. Backed by over 40 years of expertise in the Cork and West Cork property market, we are dedicated to ensuring you achieve the highest price for your property.
Our journey begins by understanding your unique needs and aspirations. From there, we craft a personalised marketing plan, targeting the ideal buyers for your property. Throughout the process, we provide exceptional customer service, guiding you every step of the way.
Contact us today for a successful, effortless selling process. Trust DNG Galvin – Your Key to the Best Price for Your Property!
💕 Our clients love us
Our priority is your satisfaction, and we go above and beyond to ensure you achieve the best price for your property and have a positive selling experience. With DNG Galvin, you're not just choosing an agent; you're opting for the assurance of the best price and an agent who excels in every aspect
What a game changer!
Majella offered an exceptional, personable helping hand to us when we were starting from scratch for a rental property. She was so kind and supportive, and more importantly went the extra mile to help us out at a stressful time. I will definitely be back to DNG if I am looking again, and I can thoroughly recommend their services. What a game changer!
— Lighthouse Theatre
Highly professional staff!
Highly professional staff, very friendly and welcoming and great knowledge of property and agriculture land in west cork. They leased land for me and was very happy with the professional handling how they dealt with it.
— Nora Mac
Highly competent staff!
Highly competent staff, welcoming, friendly, and have an excellent knowledge of the market in West Cork. They have sold a property for us in Schull, and the dedication shown to all parties was fantastic. I highly recommend them.
— W Mehner
A great service!
We bought our first home through DNG Galvin. Michael made everything so easy for us as we had a lot of questions! Our transaction ran very smoothly thanks to his support and knowledge. Thanks again to Michael and staff for offering a great service.
— C. Gabriel
A pleasure to work with!
We sold our house recently with DNG Galvin and Majella's professional knowledge and approach, as well as her friendly personality, made the process very straightforward. They were a pleasure to work with, and we couldn't recommend them highly enough.
— Marie Nyhan
Friendly and efficient team
DNG Galvin provided a very professional service. I highly recommended the firm. They sold my property in Clonakilty in five weeks. Pleasure to work with such a friendly and efficient team. Thanks to all at DNG Galvin!
— Liam
Professional friendly service
I let a commercial property through DNG Galvin in Bandon. I was so happy with the professional, friendly service I received from all the team. Michael, Majella and Caroline made the process seamless and were always available at the other end of the phone. They didn't just let me a property, they supported me while I set up my first business. Highly recommend DNG Galvin Bandon.
Thanks a million DNG Galvin!
— Oleg - Smart Parking Bandon
Professional Valuation Service
I asked Majella to do a site valuation for my elderly father a few weeks ago. Majella was both professional & kind in her approach & had great advice & patience in going through the whole process. Nothing was too much trouble. The process was seamless. My dad's description of Majella was 'What a beautiful young lady with a great attitude to life & her work, a pleasure for us old folk to deal with, god a lot of trades could learn from her'. I could not recommend Majella & her work enough. Highly recommend- 5 star service.
— Maura Mackey
Fast processing and easy to contact
I really had a very good experience with DNG Galvin, Bandon regarding my property matters. Majella and team are doing a wonderful job. They are very helpful and shows professional behaviour. Fast processing and easy to contact is one of their appreciable characteristics. If you are looking to buy, sell or rent any kind of properties, then definitely I will suggest DNG Galvin.
— Raj
Get a free property appraisal
Selling your property with us is easy:
As part of the DNG network one of Ireland's leading property agencies, your property will have local, national, and international exposure This extensive reach translates to a larger and more diverse pool of potential buyers, optimizing your opportunity to secure the best price for your property.
We understand that selling a home can be stressful, so we strive to make it as smooth as possible for you. Count on us to work diligently to ensure you get the best price for your property, and rest assured, we'll be by your side throughout the entire process. From preparing your house for sale to expertly marketing it and negotiating offers, we handle every detail, making the process seamless for you.
Free property valuation – We offer true property valuations based on an initial on-site assessment.
Our dedicated agent will guide you through the process and be there for you every step of the way.
Maximise the value of your property – We offer practical advice to sellers, that will increase the value of their property.
Maximise selling opportunities by placing your property details on the following platforms:

Listing on our website: dnggalvin.ie
Listing on our national website: dng.ie
Listing on property portals such as myhome.ie, daft.ie and rightmove.co.uk
Social media listings
Print Media – Brochure, photography, floor plan, DNG Express, editorials, newspaper (upon request)
Road signage
Newsletter sent to all registered buyers
Live chat feature on our website to answer buyers queries quickly

Viewings – We offer flexible viewing times. We know that weekdays from 9-5 aren't suitable for everyone, so we can arrange viewings in the evenings and on weekends. We'll ensure that potential buyers can view your property at a time that suits everyone.
Good communication is vital when selling a property and your agent will stay in close contact with you, potential buyers and all parties throughout the process.
Get you the best price – We will work hard and negotiate the best price for your property.
After Sales – We will also help you with the after sales process so that you can move on quickly and easily to the next rung of the property ladder.
When you instruct DNG Galvin to sell your property, you will have peace of mind, knowing that your property is in safe hands.
Arrange your no obligation Free property appraisal.
Why Sell Your Property With Us?
Expertise You can trust - 40 Years of Experience

With over four decades of experience selling residential, commercial, and agricultural properties in County Cork, our expertise in the local market is unparalleled. We have a deep understanding of buyer preferences, market trends, and pricing dynamics, ensuring that your property is positioned to achieve maximum price.
Local National & International Exposure – To Get Maximum Price

Being a part of a nationwide network of 80 offices and an esteemed affiliate of Hamptons Internationals in Ireland, your property benefits from unparalleled local, national, and international exposure. This means your listing will reach a vast pool of potential buyers, ensuring you get the best price for your property.
Personalised Tailored Service To Achieve The Best Outcome For You

At DNG Galvin, we know that no two sellers are the same. That's why our approach is centred around you. From the moment you decide to sell, we'll be by your side, offering a personalised and tailored service that aligns with your goals. Our team will take the time to understand your unique requirements, crafting a strategy to achieve the best outcome for you.
Guidance Every Step of the Way

We are committed to making your selling journey seamless and stress-free. From helping you prepare your house for listing to guiding you through the entire sales process, our dedicated team will be there every step of the way. You can rely on us to handle all the details, so you can focus on the excitement of your property's sale.
Professional And Fully Licensed Agents And Valuers

We aim to offer a professional and personal service. We listen to our clients. As a proactive firm, we aspire to advise and support our clients.

As part of the DNG network, we have a national presence with a focus on local clients.

All DNG Galvin Estate Agents are licensed and regulated under the Property Services Regulatory Authority and are members of the Society of Chartered Surveyors Ireland, Royal Institute of Chartered surveyors and the Institute of Professional Auctioneers and Valuers.
Marketing Services

We promote properties using multiple media tools to reach active buyers. We use digital, print and social media marketing. DNG Express Nationwide Newspaper is available at no cost to our clients. We achieve editorial coverage to attract potential buyers. We know professional photography makes all the difference. We use high quality photography and aerial photography to showcase your properties' best features. Considerable thought is given to each individual marketing strategy.

We showcase your property to the market by delivering a comprehensive marketing plan. DNG has its own marketing and IT departments ensuring we are always at the top of our game in terms of technology and branding.
Home Staging

Selling successfully is about presentation and helping buyers imagine how they would use your space. We'll advise you on how to maximise the appeal of your property and help it stand out from other properties available.
Check Out Our Recent House Sales
Check Out Our Recent Sellers Tips