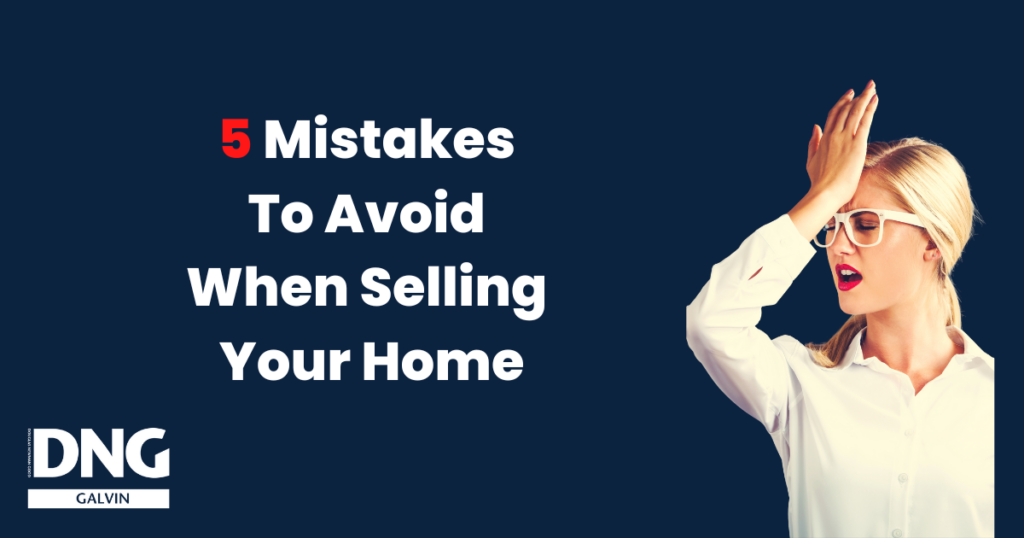 Mistakes sellers make when selling a house
Selling a home is a major life milestone, and it can be complex when you consider all of the steps involved. Half the battle of selling a home is anticipating problems before they come up.
The consequences of a mistake can impact your finances and most importantly, your peace-of-mind. DNG Galvin have sold thousands of houses over the years and we understand the challenges many sellers face.
Avoid these common mistakes when selling your home
Setting an unrealistic price
This is by far the most common mistake sellers make – and it can cost you. Of course, all sellers want to get the best price for their property, but if your asking price is too high then you are already losing out on potential buyers. Book your Free Market appraisal to find out how much your home is worth.
Only considering the highest offer
The highest offer, while exciting, isn't always the best offer given your needs. It's common in many traditional sales to have contingencies. These are conditions that must be satisfied for the sale to close. You may have contingencies that protect the buyer's interests like a financing contingency or an inspection contingency.
It's important to be aware of these types of contingencies because they can impact the timeline of the sale, the certainty of the sale, and the complexity. For example, you may receive a really high offer that is contingent on the buyer selling their existing house.
You'd have to consider how the added timing and uncertainty compares to a slightly lower offer without that contingency. In another scenario, you may have a buyer who is willing to be more flexible on repairs versus another who is offering a higher price but asking for repair credits.
Ignoring major repairs and making costly renovations
A long list of maintenance issues can turn buyers off and potentially decrease the value of your home. More importantly, buyers expect the condition of your home to match the description. Consider prioritizing the most glaring issues particularly those that are likely to turn up during a home inspection—many buyers will require an inspection before closing.
Not preparing a house for sale
One of the challenges of listing your home on the market is showing your home to prospective buyers. Generally speaking, the cleaner, less cluttered, and more well-decorated your home is, the more appeal it can have. Clutter can make your home appear smaller and make it more difficult for buyers to picture themselves living in your home. Staged homes sell faster and fetch higher prices.
Don't forget about kerb appeal. Your home's exterior is like the cover of a book, setting the stage for what's inside. If a home is disorganized or appears in disrepair, buyers may be more sceptical about its condition. Check out our top tips to prepare your house for sale.
Not having legalities in order
An important step when selling your property is to liaise with your solicitor. Before a solicitor can prepare a contract for the sale of your property, he/she will need to request paperwork including; title deeds, evidence of compliance with planning obligations, an up-to-date map of the property, evidence of registration of services e.g. septic tank, your exemption cert for the NPPR (if it is your principle residence) and confirmation you paid the NPPR if it is an investment property. Proof that your LPT is paid to date and for the coming year. Failure to get your paper work in order at the outset could delay the sale of your property.
Find out how much your property is worth, Book your Free Sales Appraisal here
For more property updates, tips and featured properties check out our YouTube Channel