What will happen to House Prices in 2023? That's a question in all buyers and sellers heads at the moment! Here Majella Galvin Chartered Estate Agent and RICS Valuer at DNG Galvin gives us a snapshot of market activity in 2022 and shares her view on whats in store for the Housing Market in 2023.
Table of Contents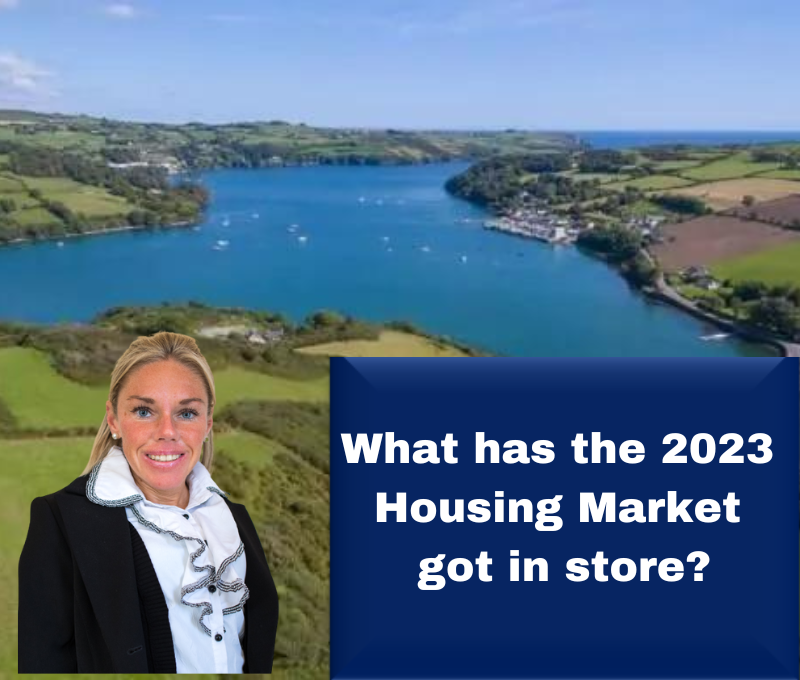 Housing Market
As we begin a new year it is always beneficial to look back before we look forward.
This year just gone was one of two halves in the residential property market. Pent up demand, plenty of cash buyers, shortage of supply and frenzied bidding wars led to double digit price growth for the first half of the year.
The temperature cooled in the second half of the year as a consequence of economic conditions such as rising interest rates and inflation. Supply also saw a slight increase particularly in the second-hand market as people began to emerge from the pandemic. Of course, the continuing exodus of landlords from the market is a factor here also. Buyers began to adopt a more cautious approach when faced with uncertainties and greater supply. This put a damper on bidding wars and prices rose at a more sustainable rate. The average value of second-hand homes in Ireland increased by 1.1 per cent in the third quarter of this year, with values rising 5.5 per cent over the first nine months of 2022. Data from the Central Statistics Office (CSO) show that property prices increased by 9.8% in the 12 months to October, down from 10.7% in the year to September.
What type of house is most on demand?
New homes and energy efficient properties were in most demand. This was influenced by the Help to Buy Scheme and green mortgages for energy efficient homes. The appetite to purchase older homes requiring renovation has diminished with buyers seeking turnkey, energy-efficient homes due to the cost of renovation, a lack of available building contractors and rising energy costs. Due to the continuation of hybrid working conditions buyers are still looking outside urban areas for homes where they get better value for money.
A renewed interest in work/life balance and quality of life issues, which stemmed from the pandemic together with the increase in cost of living is resulting in more people revaluating their needs. This is particularly evident among the older age group, empty nesters who are considering selling their larger houses in search of a low maintenance energy efficient home. However low stock levels mean it's a real challenge to find an alternative property resulting in many opting to sit on the fence.
Is 2023 a good time to sell or buy a house?
A question I am asked a lot is: 'Is it a good time to buy/sell?' Buying or selling a home is based on your personal circumstances. The best time to buy is when you can afford to and you have found the right property. If you're buying a property as a home, take a long-term view, you're going to be living there for twenty or more years so what the market does in the interim isn't going to really impact you.
What does the 2023 Housing Market got in store?
Looking ahead I believe that the market will remain robust next year, but the level of price growth will continue to moderate with low single-digit house price growth anticipated for the year ahead. The Irish economy remains well placed to weather the current headwinds of rising interest rates and inflation, which bodes well for the property market. A slowdown in the rate of price appreciation is widely expected, however.
Demand in the new-homes market will be underpinned in 2023 by the extension of the help-to-buy scheme until the end of 2024, and the new first-home shared-equity scheme. In addition, the recent changes to the macroprudential lending rules issued by the Central Bank, which take effect in January, are significant, as they increase the loan-to-income limits for first-time buyers to four times income and increase the loan-to-value limits for second-time buyers to 90 per cent from 80 per cent. As a result, I would fully expect the number of residential transactions next year will exceed 2022 levels.
Landlords look set to exit the market in increasing numbers, especially when the eviction ban is lifted. With construction inflation continuing to rise and institutional funds being diverted away from property, we are unfortunately seeing more private rental and build-to-sell schemes being put on hold because they are no longer viable.
This will exacerbate the lack of supply of new properties for rent and sale and could lead to a significant shortfall in housing in 2024 and 2025, compromising the Government's Housing for All targets. While the outlook remains challenging, there will be opportunities for local authorities to step in and complete schemes which have planning permission, and this would be a welcome development.
Overall, the likelihood of additional interest rate hikes, the continuing exodus of private landlords from the private rental market and a move away from property by institutional investors are the three factors that are set to dominate the Irish property landscape into next year and beyond.
Bandon, Kinsale, Clonakilty, West Cork property market
On a local level, the Bandon, Kinsale, Clonakilty and West Cork property market has certainly proved resilient. The past 12 months has seen record prices achieved for varying property types, from three bedroom semi-detached houses, four/five bed detached family homes to cottages and farms. We expect to see continued demand for properties in the Bandon and West Cork area from a host of purchasers from first time buyers, retirees, right sizing buyers, holiday home buyers and family home purchasers.
At DNG Galvin, we are currently looking for properties in the Bandon and surrounding areas to satisfy these house buyers. The end of 2022 saw us successfully close a large number of sales and we now seek stock for our 2023 purchasers.
If you are considering selling your property in 2023, please get in touch. with DNG Galvin. We would be delighted to meet and speak to you to guide you through the process and advise you on how to best maximise the price of your property.
Subscribe to our monthly newsletter 'Property Watch' for market updates, sellers tips, buyers tips, new properties to the market and much more. Subscribe here
Check out our YouTube channel here