West Cork Property is in high demand and the property market is thriving. High demand, stable prices, and a diverse range of buyers define the current landscape. Let's delve into what's happening in West Cork's property scene.
Why demand is high for West Cork Homes?
What lies at the heart of West Cork's magnetic appeal to buyers? The answer is multi-dimensional. West Cork is celebrated for its awe-inspiring natural beauty, picturesque coastal vistas, and a lifestyle that caters to a multitude of preferences. The region has experienced a sustained surge in demand for coastal properties, particularly in coveted locales such as Schull, Glandore, Baltimore and Kinsale. These coastal gems have not only caught the eye of Dublin-based buyers but have also captivated the interest of international investors seeking their personal paradise.
West Cork Towns
Clonakilty, a cherished West Cork town, offers an idyllic setting for families and tourists alike. Moreover, it has evolved into a thriving employment hub, boasting a technology park and hosting major employers. Skibbereen has undergone remarkable transformations, partly attributed to the Ludgate Hub, which attracts a diverse workforce. Meanwhile, Bandon continues to experience growth, attracting both locals and residents of Cork city, who are drawn to the region for its lifestyle advantages and affordability.
Bandon property
Bandon, has witnessed a significant surge in new dwelling construction, primarily in the northern part of the town. However, this growth has presented challenges, particularly in terms of traffic management and infrastructure development in the northern sector. The second-hand property market in Bandon remains remarkably tight, a situation predating the pandemic. Many second-hand properties have entered the market as landlords exit, increasing supply but exacerbating the rental crisis.
While first-time buyers are actively participating in the market, trade-up buyers are proceeding with caution due to a shortage of suitable properties. Conversely, there is growing interest in downsizing to energy-efficient, low-maintenance homes situated near town centers. Regrettably, such properties are presently in limited supply in Bandon.
Property Prices Bandon
Property prices in Bandon continue to ascend, with the median price of a dwelling in Bandon €287,500. Second-hand homes are fetching an average of €337,500, while new builds are priced at around €445,000, depending on the level of finish. Despite this growth, Bandon remains a compelling and comparably affordable option when contrasted with Cork City or Kinsale.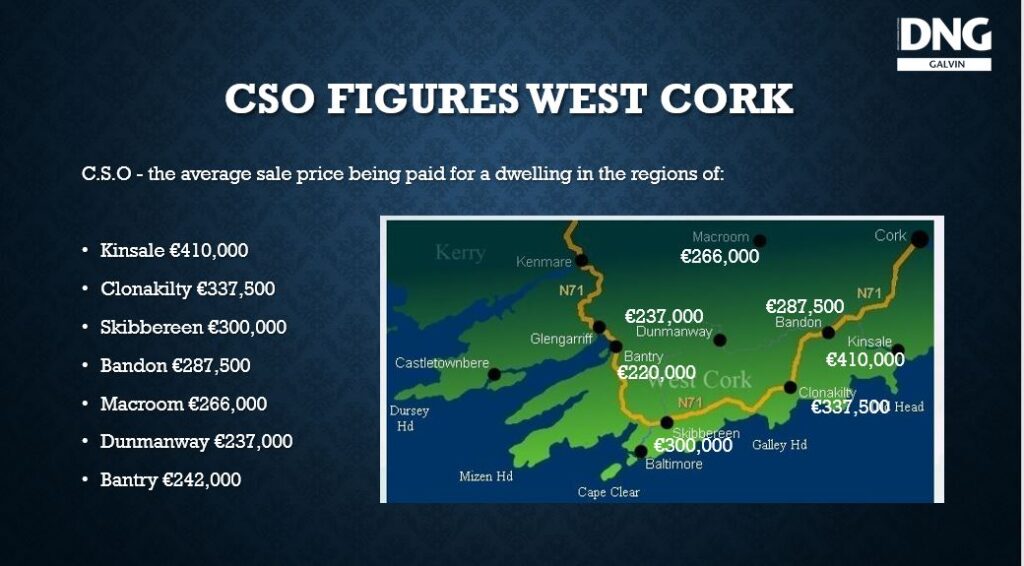 What type of properties are most in demand?
In terms of property demand, energy-efficient homes, turnkey properties, homes with spacious gardens, reliable internet access, and coastal residences reign supreme among discerning buyers. The buyer demographic encompasses locals, expatriates, Dublin residents, and international investors.
Drivers of high demand for property
While rising interest rates typically dampen property demand, this is not the case in West Cork. Several factors continue to stoke the flames of high demand:
A Robust Local Economy: West Cork's economy remains robust, attracting buyers from various walks of life.
Rental Market Complexities: High rental costs and limited availability are prompting many to explore the avenue of homeownership.
Government Incentives: Government initiatives such as Help to Buy and the First Home Scheme offer enticing incentives for prospective buyers.
Enduring Supply Challenges: Despite the government's proactive stance, supply remains a formidable challenge, exacerbated by construction costs, labor shortages, and protracted planning processes.
Outlook for the West Cork Property Market
In summary, the West Cork property market is flourishing, driven by strong demand that has persisted for several years and a limited supply of properties. Prices continue to rise but at a more sustainable rate. While demand is anticipated to continue pushing prices upward, interest rates are expected to moderate growth to single digits. West Cork's allure as a property destination shows no signs of diminishing, making it an opportune moment for both buyers and sellers in this thriving region.
Thinking of selling your property in West Cork?
Thinking of selling your property in West Cork? Get in touch with West Cork's Best Estate Agents. DNG Galvin have over four decades of experience serving the West Cork property market.
Contact us today for a FREE Property consultation
Subscribe to our monthly newsletter 'Property Watch' for market updates, sellers tips, buyers tips, new properties to the market and much more. Subscribe here
Check out our YouTube channel here