Game on: Selling Your Home With DNG Galvin – The Winning Strategy
As the anticipation builds for the rugby match, we're taking the excitement from the field and channelling it into the world of property. Selling your home isn't just a transaction – it's a game of strategy, teamwork, and achieving that victorious "Sold" sign. And when it comes to playing this game to win, there's no better ally than DNG Galvin. Let's explore how selling your home is like a thrilling rugby match and how DNG Galvin stands as your winning team.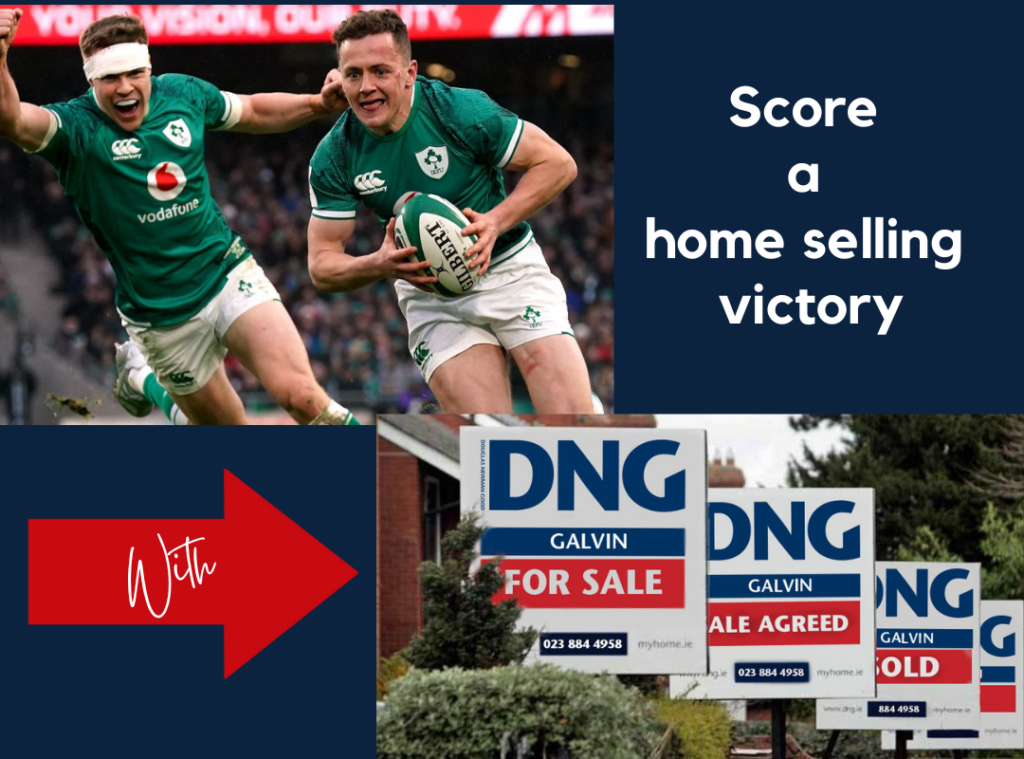 Crafting the Winning Playbook
Just as rugby teams strategies before every match, selling your home requires a solid game plan. At DNG Galvin, we're experts in crafting the winning playbook for your property. From pricing it right to staging it perfectly, we ensure your property is set up for success from the start.
Taking on Challenges, Seizing Opportunities
In rugby, players tackle challenges to move forward. Similarly, in the property game, challenges like negotiations and inspections may arise. However, with DNG Galvin by your side, challenges are transformed into opportunities. We're here to tackle each hurdle, ensuring your journey is as smooth as possible.
Score Big: Your Sold Sign Awaits
Rugby players aim to score tries; you aim to score a successful property sale. With DNG Galvin's experience and dedication, that victory is well within reach. Picture the excitement as your property gets a "Sold" sign – a moment of celebration that rivals the cheer of a triumphant rugby team.
Teamwork: The Heart of Success
Rugby thrives on teamwork, and so do we at DNG Galvin. When you choose us, you're not just hiring agents – you're building a winning team. Our collaborative efforts, market insights, and personalised approach ensure that every move we make is in your best interest.
Adapt and Conquer
In both rugby and the property market, adaptability is key to success. Just as rugby players adapt to the changing field, we adapt our strategies to the evolving property market. Our agility ensures your property remains competitive no matter the conditions.
The Victory Lap: Celebrating Your Success
In rugby, the final whistle marks the end of the game. When you close a deal with DNG Galvin, it's your victory lap. Our goal is to provide you with a seamless, successful experience that culminates in a celebration – just like the elation of winning a rugby match.
DNG Galvin: Your Winning Move
Rugby exemplifies passion, dedication, and the thrill of victory. DNG Galvin embodies these qualities in the property arena. When you choose us, you're choosing a winning strategy backed by experience, market expertise, and a commitment to your success. So, as you gear up for the rugby match, remember that there's a parallel game happening in the world of property. With DNG Galvin, you're not just playing to sell – you're playing to win. Let's make your home-selling journey an exhilarating success, backed by the experts who understand the art of victory. 🏉🏡🎉
Thinking of selling your property?
Contact the winning team! DNG Galvin