Table of Contents
Selling your rental property?
As a landlord, when you decide to sell a rental property, there are several important factors that must be considered. They will dictate the process of the sale and ultimately the financial gain to you as the landlord seller.
In this guide, we will take a closer look at each of the main considerations so that you can get the best return when it comes to selling your investment property in Ireland. This guide can also help you to avoid conflict that could either make a sale very difficult or even jeopardize the sale entirely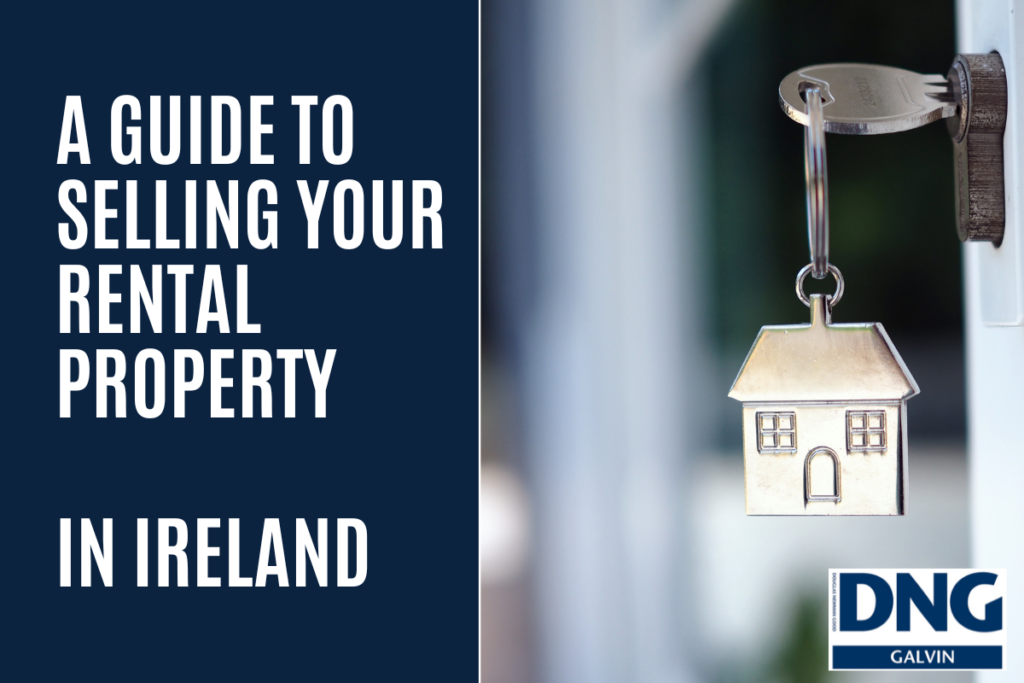 What to consider when selling an investment property in Ireland?
1. Selling with vacant possession or with tenants in occupation?
Will you be offering the property for sale with vacant possession (nobody living there) or with tenants in occupation (someone living there)
If your property is vacant, then it will appeal to a wider pool of buyers – investor or owner occupier. On the other hand, if you have a tenant living there, then the sale will usually be restricted to investors only.
Selling with vacant possession
Give notice to terminate the tenancy and sell with vacant possession. It's really important to recognise the tenant's entitlements regarding the length of notice, refund of the deposit, and access for viewings and inspections. There are clear rules concerning termination of tenancy and these are available on the www.rtb.ie website.
How much notice do you give tenants when selling a house in Ireland?
The notice period that you are required to give to tenants varies depending on how long they have been your tenants at the property that you are selling. Note that Day 1 of the notice period starts the day after the notice of termination is issued. The RTB revised the periods of notice for tenants most recently on July 6th 2022 as below.
How do a landlord end a tenancy in Ireland?
A landlord must issue a notice of termination. There is a strict protocol for issuing notice of termination
What is a valid notice of Termination?
For a termination notice to be valid it must include the following:
Be in writing (an email will not suffice).
Be signed by the tenant or landlord or his or her authorised agent, as appropriate.
Specify the date of service.
State the grounds for termination (where the tenancy has lasted for more than 6 months or is a fixed term tenancy).
Specify the termination date and also that the tenant has the whole of the 24 hours of this date to vacate possession.
State that any issue as to the validity of the notice or the right of the landlord to serve it must be referred to the RTB within 28 days from the receipt of the notice.
Be accompanied by a statement/statutory declaration where required. Depending on the grounds relied on, there may be other specific information required: for instance, if you want the property back to house yourself or your daughter you will to say so and include your/her name in the notice
Selling with a tenant in occupation
In the case of selling your investment property with a tenant in occupancy, the details concerning the tenancy, deposit, and rental history will be needed by the selling agent. Make sure to get these details to your agent as early as possible as a way of spotting any issues that might interrupt your plans. Clear and open communication is going to be critical where a tenant remains within your property.
Property Deeds –
Where there is an existing mortgage on your investment, then you as a landlord should request the Property Deeds from the bank or building society, through your solicitor, again as early as possible in the process.
We recommend that this be done as soon as a landlord decides to sell. This significantly reduces the overall time between putting your property on the market and closing a sale for you.
Planning Compliance
Has your property been extended or has the use been changed? Then we recommend you get a compliance cert at the outset, as this will be requested by the purchaser's solicitor.
Paperwork is obviously important during the process of selling your investment property in Ireland. By having a complete history of the property ready and with your solicitor, you can avoid unnecessary delays to completing a successful sale.
MUDS
Own an investment property as part of an apartment development? Then check that your annual charges are paid up to date and that the Owner Management Co is compliant. Talk with the company and make sure its annual returns are also up to date.
BER Certificates when selling property in Ireland
All property offered for sale in Ireland or for rent must have a valid BER Certificate. Ask your agent for details of local BER assessors.
What tax do I pay if I sell my rental property in Ireland?
If your property is currently worth more than the purchase price, you will be subject to Capital Gains Tax, after the cost of sale and some other specific costs that are allowable e.g., capital expenditure.
How to maximise the value of your investment property?
If you want to maximize the value of your property, it's important to consider your target buyer. For instance, if your property is located in a desirable residential area and is likely to attract families, it's worth investing in improvements that appeal to their emotions. This could involve ensuring the property is structurally sound and enhancing its appearance through staging.
On the other hand, if your target buyer is likely to be investors, you may want to think carefully about spending money on improvements, as they tend to make decisions based on practical considerations rather than emotions. However, there are certain things that investors will look for, such as safety features, compliance with fire regulations, and potential rental income.
Steps to increase the value of your property
In addition to considering your target buyer, there are other steps you can take to increase the value of your property. For instance, decluttering can help create a sense of spaciousness, while improving the property's curb appeal through cleaning and painting can enhance its overall appearance. A well-maintained garden can also add value by creating an additional living space.
When it comes to the property's layout, functional areas that meet the needs of the target buyer can make a big difference. Finally, it's important to identify any repairs or maintenance issues that could be a turn-off for buyers and address them before putting the property on the market. By taking these steps, you can maximize the value of your property and appeal to your target buyer.
Thinking of selling your rental property in Ireland?
Plan of action to sell your rental property in Ireland
Talk to an estate agent – Find out the value of the property, ask for advise on how to maximise its price, ask the agent do they have experience in dealing with tenants and issuing notices of termination.valuation,
Issue Notice of Termination
Get Paperwork and legalities in order
Prepare your house for sale
Communication with tenants is key when selling your rental property. Be aware of teannts rights and ask your agent to work in collaboration with tenants.
Need advice when selling your rental property in County Cork?
Need more advice when it comes to selling your investment property in Co. Cork then let the team in DNG Galvin Estate Agents know. Our property experts are on hand to guide you through the process and find a buyer for your property when it comes time to sell. For more simply call 023 8844958 . Alternatively, click to grab your Free Property Valuation Here to get your property sales process underway from today