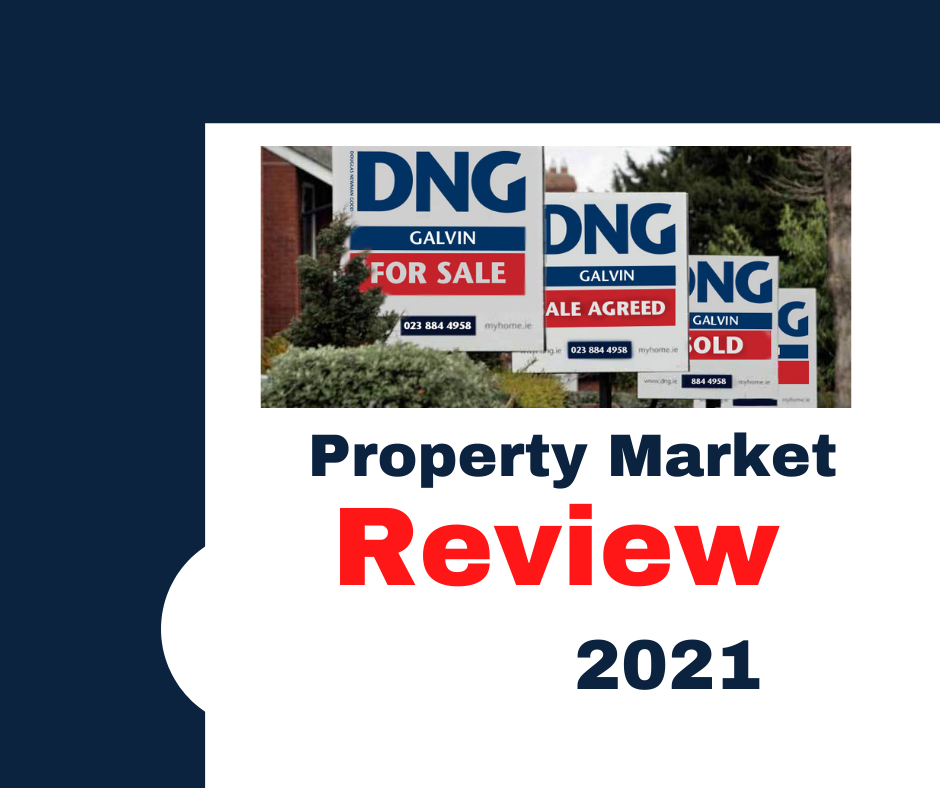 Review of the Property Market 2021
This year started with Ireland in a level 5 lockdown and a restriction on property viewings. Given this market activity was a fraction of normal levels.
Activity began to pick up from March when it became obvious lockdown measures were to be extended, from buyers who simply had to buy and many agreed sales without physically viewing the property.
When in house viewings returned in April the market really took off. Pend up demand and an historically low supply of property for sale pushed prices up.  Property prices rose by 14% – 20% with coastal and suburban areas seen the highest rises.
Factors which influenced price increases
The price increase was driven by pent up demand. People have savings since Covid and want to invest in a home. We also saw a lot of cash buyers from overseas e.g., UK, China.
Low stock – Covid restrictions, delays in sourcing materials, as well as an increase in the cost of labour and materials all had a negative impact on the supply of new homes to the market. At the beginning of the year stock of second-hand homes to the market was very low. When things opened up and in person viewings recommenced, we saw a slight increase in the number of second-hand homes to the market from the previous quarter. According to DAFT.ie 2021 saw the lowest level of homes for sale in over a decade.
Anecdotal evidence suggests one of the main reasons for low supply of second-hand homes was uncertainty with covid and the lack of availability of alternative accommodation in the market. If they sell their home, where do they go?
Renting was not an option for the majority of people. Firstly because of the high rental costs and secondly the lack of rental accommodation on the market. 2021 saw a lot of small landlords exit the market. According to a recent report 2,000 have done so already this year while a similar number sold up last year. This is a concerning trend for the rental market as the majority of landlords in Ireland are small/medium. Feedback from landlords reveals that the cost of maintaining a property, mortgage payments strict regulations and high taxes make it unviable.
While sales instructions did increase albeit at a slow rate during the year. Q4 saw a slowdown in stock again. One of the main reasons continues to be the rising cost of construction, shortage of labour and inefficiencies in delays with utilities such as Irish Water.
Q4 saw an increase in sale completions. The majority of which was sales from Q3 being completed and of course the pressure was on to close sales to let people move in before Christmas.
Most sought after properties in 2021
As it became clear that the switch to remote working was here to stay, access to open space became a critical issue for buyers. As a result, properties with defined living areas, home office, good broadband and a spacious garden became highly sought after. We have witnessed a resurgence of interest in second hand properties in rural areas because people no longer were tied to City Centre locations.
Homes in turn key condition were high in demand as buyers opted to avoid the rising cost of construction. On saying that we saw great demand for doer upper coastal properties as many people embraced the holidaying at home option. We sold a number of coastal properties from Kinsale to West Cork to overseas cash buyers who had sold their home abroad. We witnessed particularly strong demand from UK based buyers who opted to relocate to Ireland and benefit from European citizenship.
Needless to say, the bungalow bliss made a strong influence amongst downsizers and people in their autumn years.
First time buyers were most attracted to new homes because of their energy efficiency and support provided by the Help to Buy Scheme.
As the year ends, there is still very strong demand for family homes.  One would usually expect a slowdown in enquires coming up to Christmas but not this year. We continued to add ready to go buyers to our database. This illustrates my belief that there is no right or wrong time to buy a property. I always say the best time to buy is down to your own induvial circumstances s. The key questions to ask yourself are; Can you afford to buy? and does the property suit your needs?
Outlook for 2022
The outlook for 2022 will be dictated by how the pandemic is managed, interest rates and the supply of properties coming to the market. We envisage price increases of 7-10%.
Demand is very strong. The biggest challenges for developers in responding to the demand for new homes are the rising cost of labour, materials and utilities, as well as delays in achieving planning permission
The Government needs to provide incentives to bring about 100,000 vacant properties and business premises into the housing stock. This is one of the fastest ways to increase stock to the market. A viable way for the government to do this is to offer tax free rental income for two years to those who refurbished their buildings.

Let's take an optimistic view and hope the Housing for all plan does justice to the Irish Property market.
How much is your property worth?
Get a FREE Market Valuation of your property. here
https://dnggalvin.ie/