Table of Contents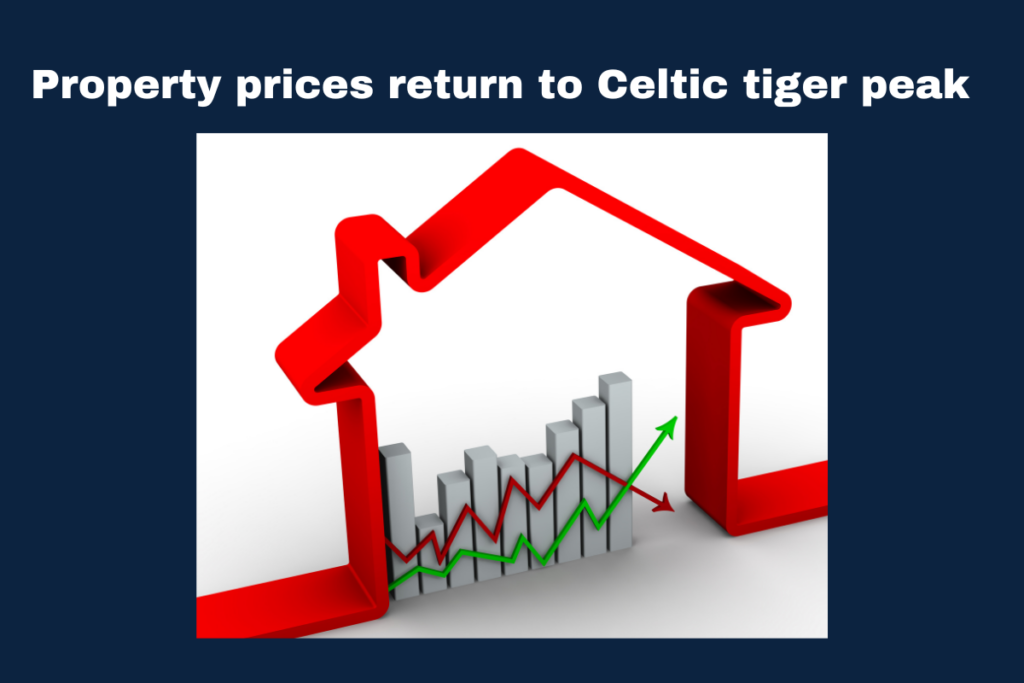 Irish property prices return to Celtic tiger peak in June. According to the Central Statistics Office, property prices nationally have increased by 123% from their trough in early 2013.
What impact has peaking property prices on Co. Cork homeowners?
A strong market with Celtic tiger prices is good news for homeowners. The most obvious benefit is the fact that the value of your home has increased so the equity property owners have in their property rises substantially, which is great for property owners whether looking to sell or not. Also, for homeowners and investors thinking of selling, low supply and high demand means that sellers can get a good price.
What is the average price of a house in Cork City and Cork County?
The average price paid for a home in Cork City in the last 12 months was €313,900 and it was €305,047 in Cork County. Kinsale continues to be one of the most expensive locations with an average price of €493,457. Bantry is a more affordable location where the average price of a house was €185,000.
Why are Irish property prices continuing to rise?
Increased interest rates, an improvement in supply and uncertainty attached to the Ukraine war, surely these factors would dampen property prices. This begs the question why are prices continuing to rise? The simple answer is there is an imbalance between demand and supply. Despite having seen an increase in supply of houses, demand still far exceeds supply. So when there are too many buyers and too few homes prices only go one way.
Will there be another property crash?
As we map out the market's near- and long-term future, it is certainly understandable for the ghosts of 2008/2012 housing crash to haunt buyers, sellers and investors alike. Yet while a market decline is difficult to predict, it's worth noting that there isn't much data suggesting one is imminent.
For starters, the current asset market is vastly different from what we saw in 2008-2012, right before the Great Crash. The economy is growing, unemployment remains low, wages are growing, and optimism remains high.
The last crash was fuelled by credit. Now the Central banks macro-prudential rules are a crucial distinguishing feature, pointing to the curbs that limit mortgage lending to 3.5 times a borrower's gross income.
Buyers also have to have a deposit of at least 10% compared to the 100% mortgages offered during the runaway Celtic Tiger economic boom that ended in the euro zone's costliest banking rescue. Mortgage drawdowns, which ballooned to an unsustainable €40 billion in 2006, are growing at a far steadier rate and reached €10.5 billion last year. The country's much shrunken banking sector is also far better capitalised.
While Ireland built too many homes in the wrong places in the 2000s, supply has since constantly fallen short of demand and rents have long passed their previous peak, limiting prospective buyers' ability to save a deposit.
These factors mean we are in a safer environment. In the long term increased interest rates and an increasing supply of property to the market will provide more sustainable Irish house price growth.
How much is your Co. Cork home worth?
Curious to know how much buyers are willing to pay for your property? Find out how much your home is worth. Click here to submit your details.
Thinking of selling your Co. Cork property?
The DNG Galvin team services Bandon, Kinsale, Clonakilty, Courtmacsherry, Ballincollig, Bishopstown and surrounding areas throughout Cork City and West Cork.
Please register your details here and our Client Services department will be in touch to see how DNG Galvin can help. Alternatively, call DNG Galvin on 023 8844958