Wondering whats happening in the Irish Housing Market?
Welcome to an insider's perspective on the Irish property market! As an experienced Irish estate agent, I've witnessed firsthand the factors that drive property sales and the intriguing variations in saleability across different price ranges. In this article, we'll explore the dynamics of selling properties and uncover the key factors that influence varying sale rates. Whether you're a buyer or seller, join me on this insightful journey through the Irish property market. Let's dive in!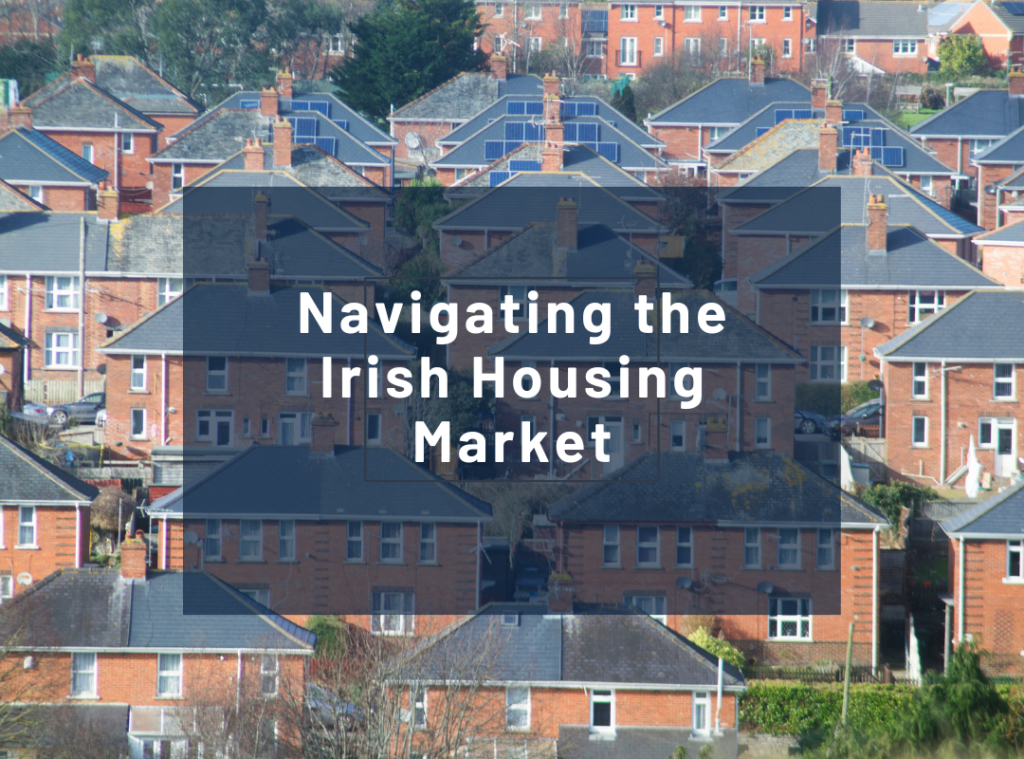 Price Range and Saleability – Irish Housing Market
The Irish property market encompasses distinct price ranges, such as entry-level, mid-range, and upper range. Each segment attracts different buyers with varying purchasing power, preferences, and investment goals. These factors play a crucial role in determining the saleability of properties within each price range.
Entry-Level Irish Properties: High Demand and Fast Sales
Entry-level properties in the Irish property market are experiencing a surge in demand from first-time buyers and buy-to-let landlords. With a growing population and increased interest in homeownership, these affordable homes offer quick sales and attractive returns. However, the rental market has faced challenges, leading to some private landlords exiting due to complex rental legislation. Despite this, entry-level properties remain a promising option for buyers and investors in the Irish property market.
Mid-Range Irish Properties: Finding Balance in the Market
Mid-range properties in the Irish property market cater to buyers with greater financial flexibility. These properties strike a balance between affordability and desirable features. Market conditions, location, and property attributes are key factors influencing their saleability. In the current market, there is a high demand for mid-range properties, particularly from families seeking more space. Factors such as property condition, proximity to schools, transportation options, amenities, and local conveniences play a vital role in attracting potential buyers to these properties.
Upper-End Irish Properties:
The upper end of the Irish property market shines brightly, drawing substantial interest from overseas buyers, particularly from the United States and the United Kingdom. Ireland's rich heritage, breathtaking landscapes, vibrant culture, and attractive investment opportunities make it a desirable destination for high-net-worth individuals seeking luxury homes. Prime locations like Kinsale and West Cork exemplify this trend, witnessing robust sales of properties priced at €1 million and above.
Influential Factors for Saleability- Irish Housing Market
Beyond price ranges, several factors significantly impact the saleability of properties across all segments.
Location: A Crucial Determinant:
Location plays a pivotal role in attracting potential buyers, irrespective of the price range. Desirable neighbourhoods and developments in County Cork with excellent amenities, schools, convenient transportation, and nearby shops command a premium and are highly sought-after. Buyers recognise the long-term value of properties situated in prime locations.
Property Condition and Features:
The condition and features of a property hold great significance in its saleability. Well-maintained properties, offering modern amenities, attractive features, energy efficient and updated interiors, appeal to a wide range of buyers. However, properties requiring moderate renovations or lacking desirable features may experience slower sales or necessitate price adjustments. The vacant property grant has led to an increase in interest for properties in need of renovation. Availability of skilled tradespeople and access to finance is having a negative impact on the success of this government initiative.
Targeted Marketing and Pricing:
Effective marketing strategies tailored to specific price ranges enhance the saleability of properties. Accurate pricing is crucial to attract potential buyers and generate interest. Overpricing may deter buyers, while underpricing could lead to missed opportunities for maximising returns. Partnering with skilled estate agents like us enables access to valuable insights into pricing strategies and the development of targeted marketing campaigns to reach specific buyer segments.
The DNG Galvin Advantage
In the competitive Irish property market, partnering with DNG provides a distinct advantage. As the exclusive Irish affiliate for Hamptons International, we offer unparalleled global exposure for your prime property. With an extensive network of over 7,000 offices worldwide, we ensure your property receives maximum visibility, connecting you with potential buyers across the globe.
Final thoughts on the Irish Property Market
Navigating the Irish property market requires a comprehensive understanding of saleability factors, market trends, and prime locations. From entry-level to upper-end properties, each price segment presents unique opportunities and buyer demographics. Factors such as location, property condition, targeted marketing, and accurate pricing strategies play crucial roles in attracting potential buyers.
Whether you are a buyer or seller, our professional estate agency services are here to guide you. Explore the allure of the upper-end market, which entices overseas buyers with Ireland's rich heritage and attractive investment prospects. Prime locations like Kinsale and West Cork exemplify the appeal of luxury properties, experiencing robust sales in the €1 million and above price range.
Embark on a successful property journey with DNG Galvin as your trusted partner. Unlock the potential of your property, capitalise on opportunities, and navigate the Irish property market with confidence.
Contact us today to embark on a seamless and rewarding property experience.
Look forward to assisting you on your property journey.