How to stage a home for sale on a budget?
Staging a home for sale can be the key to selling successfully. The goal is to appeal to as many buyers as possible and in the process achieve the highest price. While professional home staging can be expensive, there are several budget-friendly tips and tricks you can utilize to create an attractive and welcoming environment. In this blog post, we'll guide you through staging your home room by room, all while keeping costs down.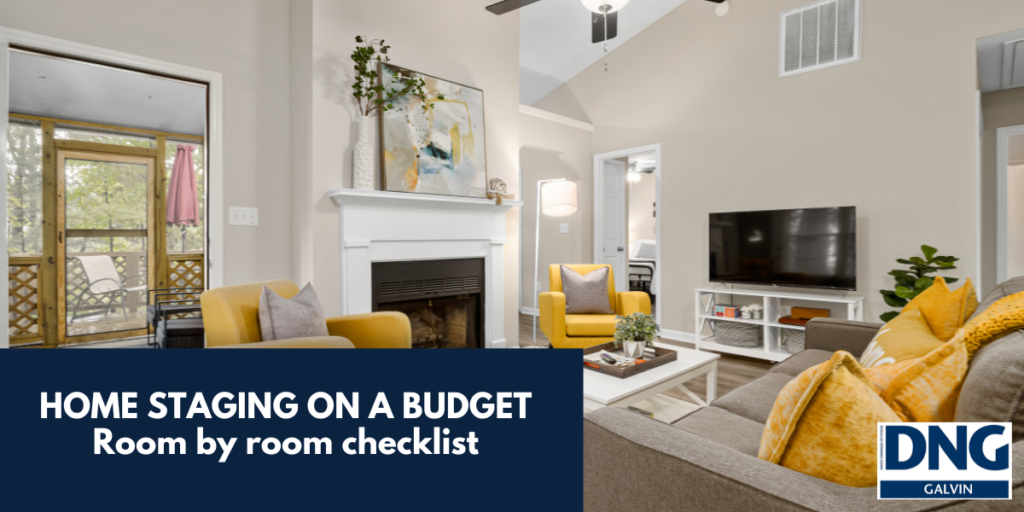 Staging your home for sale: room by room
Stage Kitchen
Clear Countertops: Remove all unnecessary items from the countertops to create an impression of cleanliness and ample workspace.
Deep Clean: Ensure all surfaces, including appliances, cabinets, and floors, are thoroughly cleaned. This can significantly improve the overall look and feel of the kitchen.
Update Hardware: Consider replacing outdated cabinet handles and knobs with more modern options. It's an inexpensive way to give your kitchen a quick facelift.
Add Greenery: Place a few potted herbs or small plants on the windowsill or countertops to bring life and freshness to the space.
Stage Living room
Declutter: Remove personal items and excess furniture. Create a spacious and inviting atmosphere by leaving only essential pieces.
Rearrange Furniture: Experiment with different layouts that maximize space and flow. Highlight the focal points of the room, such as a fireplace or a large window.
Lighting: Ensure the room is well-lit. Use natural light as much as possible and add inexpensive floor or table lamps to brighten dark corners.
Accessories: Use decorative pillows, throws, and affordable artwork to add color and texture to the space. Visit thrift stores or garage sales for budget-friendly finds.
Stage Dining room
Set the table as if you are having guests over for dinner
Create an Entertaining Space: Rearrange furniture to create a sense of flow and make the room appear spacious. Highlight any unique architectural features, such as a built-in buffet or bay window.
Stage Home Office
Declutter and Organize: Remove excess paperwork, personal items, and unnecessary furniture to create a clean and functional workspace.
Arrange Furniture: Position the desk and office furniture in a way that maximizes space and promotes productivity.
Show Versatility: If possible, stage the office to showcase its potential as a guest bedroom or multipurpose room, adding a futon or a fold-out desk.
Good Lighting: Ensure adequate lighting by using desk lamps or floor lamps to create a well-lit and inviting workspace.
Stage Bedrooms
Neutralize Colors: Repaint walls in neutral tones to create a calming and universally appealing atmosphere.
Create a Cozy Bed: Invest in fresh bedding and arrange pillows and throws to create an inviting and luxurious bed. This simple touch can transform the entire room.
Declutter and Organize: Remove personal items, excess furniture, and clutter from closets and bedside tables. Buyers will appreciate the sense of space and storage potential.
Add Mirrors: Strategically place mirrors to make small bedrooms appear larger and reflect natural light.
Stage Bathroom
Deep Clean: Scrub all surfaces, including tiles, grout, and fixtures. A sparkling clean bathroom can greatly enhance the appeal of your home.
Update Fixtures and Hardware: Replace old faucets, showerheads, and drawer pulls with new, inexpensive options to give the space a modern touch.
Fresh Towels and Decor: Hang clean, fluffy towels, and add a few decorative touches like scented candles or small plants to create a spa-like ambiance
Make sure your toilet seat is always down
Hide any personal hygiene items and other toiletries
Stage Hall
Pack away any coats, bags and shoes that are usually kept at the front door
Get painting if your hall has any walls that feature bold or loud colours
Add a mirror to your hall to add light to the space
Make sure your front door can open and close easily
Bring some life and a pop of colour to your hall by adding a pot plant
Make sure your hall smells nice by using candles, wax melts or diffusers
Staging your house for sale
Staging your home on a budget doesn't mean compromising on the quality and appeal of your space. By following these room-by-room staging tips, you can create a welcoming environment that will captivate potential buyers without breaking the bank. Remember to focus on decluttering, deep cleaning, and adding simple yet tasteful touches throughout your home.
Selling Your Home in Bandon, Kinsale, Clonakilty, Courtmacsherry, Cork or West Cork?
As one of west corks 'leading estate and letting agents, we are committed to making matters easier for you. We understand that selling your property can be stressful. This is why we offer up-to-date advice and guidance to you, every step of the way. Find out more about how DNG Galvin can support you in selling your property by calling us on 023 8844958 .
Subscribe to our monthly newsletter 'Property Watch' for market updates, sellers tips, buyers tips, new properties to the market and much more. Subscribe here
Check out our YouTube channel here