Table of Contents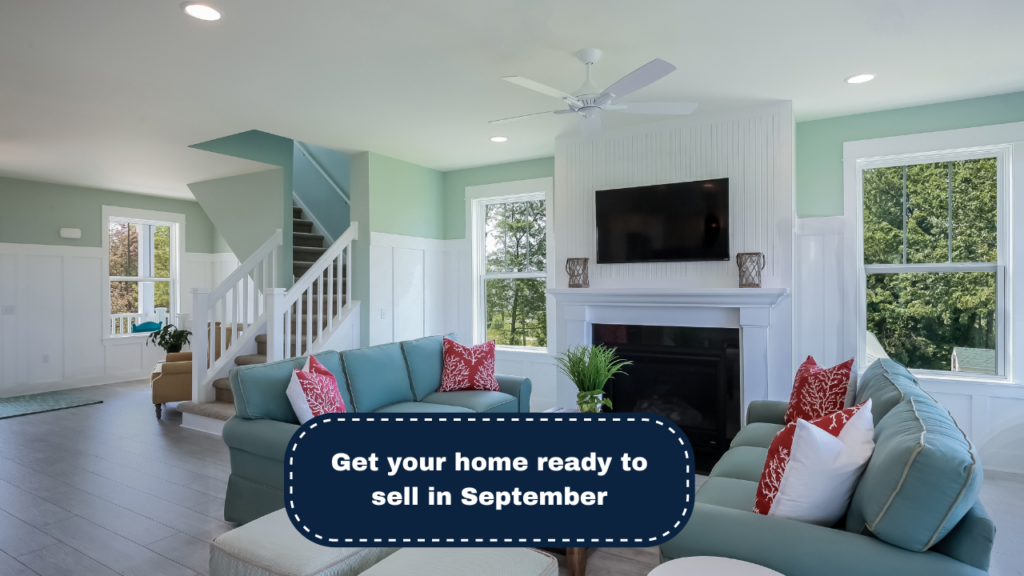 Is now a good time to put your property on the market?
Before putting their house on the market, sellers will often ask an estate agent when the best time of the year is to sell property in Co. Cork: "Is September a good time to sell a house?"
The answer is Yes. Historically, September has always been a good time to sell, if not one of the best months of the year in which to sell a house.
Here's why:
Perfect Weather: September typically offers mild, pleasant weather, complementing your property's appearance with the beautiful autumnal colors, especially appealing in scenic Co. Cork.
Buyer Focus: After the summer holiday season, potential buyers are back in full swing, eager and attentive to new listings.
Swift Transactions: Selling in September allows for transactions to be completed before the Christmas season, a huge selling point for both sellers and buyers.
How to get your property market ready ?
Five steps to getting your property ready to sell in September
First Impressions
The first impression of your property can have a huge impact. It is often the case that an external image is used in online marketing and when buyers are viewing, that first 'look' can dictate the positivity of the rest of a viewing.
Cleaning the path, fixing damaged tiles, cleaning or redecorating your front door, trimming the hedge, cleaning window ledges or repainting where needed, all things to think about to boost the 'kerb appeal' of your house.
Declutter and complete DIY
It can be challenging for buyers to imagine themselves living in a place filled with other people's belongings. Removing any clutter and items that aren't used daily can help potential buyers envisage themselves living in a property. Check out our video with Professional Declutter Anne Maire Kingston of White Sage Decluttering for tips on how to declutter your home.
It might be the case that removing items and placing them into storage is a good option – a small investment that could boost your sale price.
Equally, complete any DIY projects or employ a handyman to finish any jobs around the house that need attention.
Outside Spaces
Whether you have a large garden, a modest one, a terrace or a balcony, outside space has never been more important.
As we head into the autumn some plants are beginning to lose their flowers and look less attractive than others. If you're thinking about adding some new plants or potted plants to your outside space to spruce it up, look for evergreen plants.
If you're looking to add some colour, head to your local garden centre and ask for specific advice on where you're planting and what you're hoping to achieve.
For smaller outside areas, making the space welcoming and useable is the key – whether that's creating a seating area on a terrace or cleaning the glass on a balcony, small touches and attention to detail can make a big difference.
Windows
The main purpose of windows is to fill a property with natural light, dirty windows aren't as effective as clean ones at filling a property with light and what's more, they don't look great when they're dirty either!
We mention above the need to clean any glass that might feature on a balcony or terrace – dirt and streaks stand out on glass, so it's a good idea to clean glass throughout the property. Similarly, mirrors and shower screens that are clean make a far better impression.
Spark Imagination
A home is yours to live in and you often make it a very personal space but when it comes to selling, the key is to allow potential buyers the opportunity to imagine themselves living there. Where possible depersonalise your house, keep colours and design features neutral.
A clean and fresh smelling property can also make a difference, pleasant aromas evoke happy emotions. Whilst sellers should aim for their property to be welcoming and spark the imagination of buyers.
Selling your Property in September in Co. Cork?
If you're thinking about selling your property this September and would like to learn more about the current market and the best strategy to adopt unique to your property and future plans, please get in touch with DNG Galvin estate agents here or call 023 8844958
Our lettings and management team are also on hand to discuss plans for your rental property in Co Cork. Get in touch to learn more.