Don't be shy when viewing a property! When you're in the market to buy a house, viewing potential properties can be exciting but also overwhelming. It's important to approach each viewing with a critical eye, so you can assess the property properly and make an informed decision.
What to look out for when viewing a house?
Here are some things to look out for when viewing a house:
Outside – Viewing a property
Start by examining the property from the outside. Take a look at the roof, siding, and gutters to check for any signs of damage or wear and tear. If the property has a garden, assess its condition and overall maintenance. Make sure everything is functional, and prepare to add up estimated repair costs for objects that need attention.
Check all windows, locks, and doors. Repairs to, or even replacing, doors, windows, locks, can be costly. Look for cracks in the walls. Cracks in the walls might need immediate action to prevent damage spreading to the interior.
Check the garden and the perimeter/fence. If the property has a garden and/or walls and fencing, they should be secure. Check the garden is an appropriate size, has a favourable aspect, and can accommodate an extension if required.
Look at the space available for parking/garage. Look at the space available at the front of the property and check the entrance is secure, and also that there is adequate space for parking. Is there potential to extend?
Are there additional access points to the garden or property? Any additional access points to the building and garden should be examined to determine how they are used, and above all if they are safe.
Another important point on your checklist for viewing a house; ask the estate agent if they are shared and, if so, what rules and agreements are in place. If possible, get these agreements in writing.
Inside – viewing a property
Once inside the property, start by assessing the layout and flow of the house. Is it easy to navigate from one room to another? Do the rooms feel spacious and well-proportioned? Are all of the lights switched on, or is there good natural lighting?
When you are inside the property, pay attention to the lighting. Do they have all of the lights turned on, or is there enough natural light getting in to the building without the need for lights to be kept on all day? What is the aspect of the rooms?
Is there a security system? A lot of homes will have a security alarm installed. Check when it was last serviced and whether it is connected to the phone line. If you are viewing an apartment, the complex may have their own security team who oversee all of the apartments.
Is all of the accommodation in the property compliant? Some properties may have converted attic space into additional bedrooms which can be an excellent use of extra space. However, make sure that these rooms are compliant as sometimes there is not enough ceiling clearance.
Are the boiler and fuse box in good repair? Always ask to look at the boiler and fuse box to ensure they are in good repair. Ask when they were installed and when they were last serviced. Ask for the BER rating and certificate. Obviously grades A-C are most desirable, but consider whether you can fit additional costs into your budget that can go towards improving the energy rating of the property.
Check all floorboards, walls, windows, doors, and ceilings for possible repairs or signs of damp. Ensure there is no damage to the floorboards, walls, windows, doors, ceilings, and power sockets.
Look behind furniture to see if anything is covered up. Furthermore, it is imperative to check these areas for signs of damp. As with the exterior, all doors and windows should be functional on the interior.
Check out the area
Take a walk around the neighbourhood. Look out for nearby amenities such as schools and parks. Consider the potential for noise or disturbance such as nearby road. Check the local area development plan for future developments that may impact the property.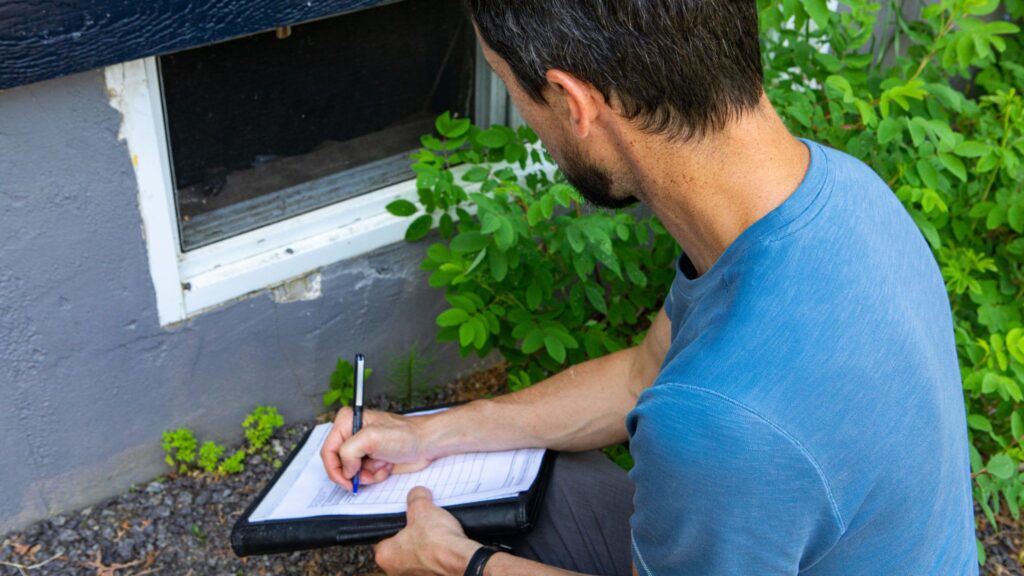 Top tip when buying a house
When it comes to buying a house, being thorough is key.
By following these tips and doing your due diligence during a viewing, you can make an informed decision and ensure that you're investing in a property that meets your needs and expectations. Remember to take your time and don't be afraid to ask questions or request additional information from the estate agent.
Before you start looking in the market to buy a house it is important to get a valuation of your own house. This helps to plan your finances for your upcoming move. Click here to book a valuation of your property
This article was published in The Southern Star Spring 2023 Property edition West Cork.
Author : Majella Galvin is a Chartered Estate Agent and RICS Registered Valuer with DNG Galvin. She has been working in the property sector for over a decade and has built up a wealth of knowledge and experience of the property market throughout the years. Majella holds a BSc in Real Estate & Valuations from the University College of Estate Management, Reading. She is Chairperson of the Society of Chartered Surveyors Ireland (Southern region), a member of the Royal Institution of Chartered Surveys and the Society of Chartered Surveyors Ireland.