Bandon, County Cork in high demand for properties.
Attention homeowners in Bandon, County Cork: if you're thinking about selling your property, now is an excellent time to do so. Bandon is experiencing a surge in demand for properties, thanks to its unbeatable location, fantastic amenities, and vibrant community spirit.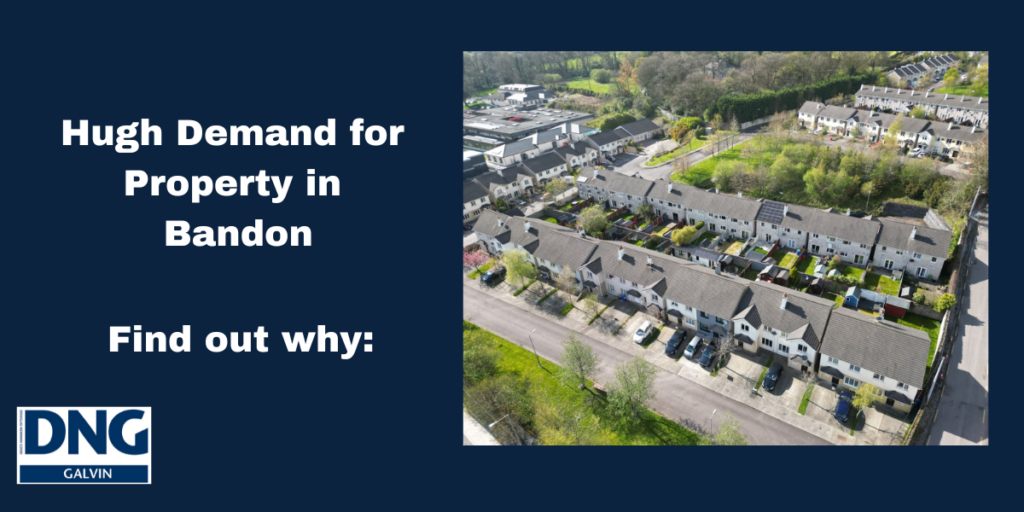 Location Location Location – Bandon
Bandon's location is hard to beat, nestled between Cork City and West Cork's stunning beaches. This gives residents the best of both worlds, with the hustle and bustle of city life just a stone's throw away and the tranquillity of the coastline within easy reach. Commuters will appreciate the town's easy access to major road networks, making it an ideal base to call home.
Family Friendly Amenities – Bandon
In addition to its excellent location, Bandon boasts fantastic amenities that make it an ideal place for families to call home. The town is home to excellent schools and a brand-new library, giving children access to quality education and resources. There are also numerous parks and of course the new playground is due to be opened before the end of the year perfect for family outings.
Vibrant Community Spirit – Bandon
Bandon is a town with a vibrant and active community, with numerous clubs catering to various interests. Whether you're into sports, walking, or golf, you're sure to find like-minded individuals to connect with. The town's community spirit is infectious, with regular events and festivals throughout the year that bring people together.
Supply and Demand
As an estate agent in Bandon, we can confirm that there's a shortage of properties on the market to cater to the growing demand. This is excellent news for homeowners looking to sell, as they could receive an excellent price for their property. With our local knowledge and expertise, we can help you achieve the best possible outcome, and we offer a FREE valuation service to get you started.
Looking to sell your property in Bandon?
So, if you're a homeowner in Bandon looking to sell your property, there's never been a better time to do so. Don't miss out on this fantastic opportunity to achieve an excellent price for your property. Get in touch with us today to get started!
Subscribe to our monthly newsletter 'Property Watch' for market updates, sellers tips, buyers tips, new properties to the market and much more. Subscribe here
Check out our YouTube channel here