A proud time as Majella and Caroline take hold of their late father's legacy.
"Property is in our blood, and we look forward to continuing the Family Auctioneering Business. We are fully committed to maintain the highest standards of service and professionalism that became Michael's hallmark."
If you are thinking of selling your property, get in touch with us. We will provide you with a Free Sales Appraisal, and advice to help prepare your property for sale.
023 88 44 958

info@mgalvin.ie
Majella and Caroline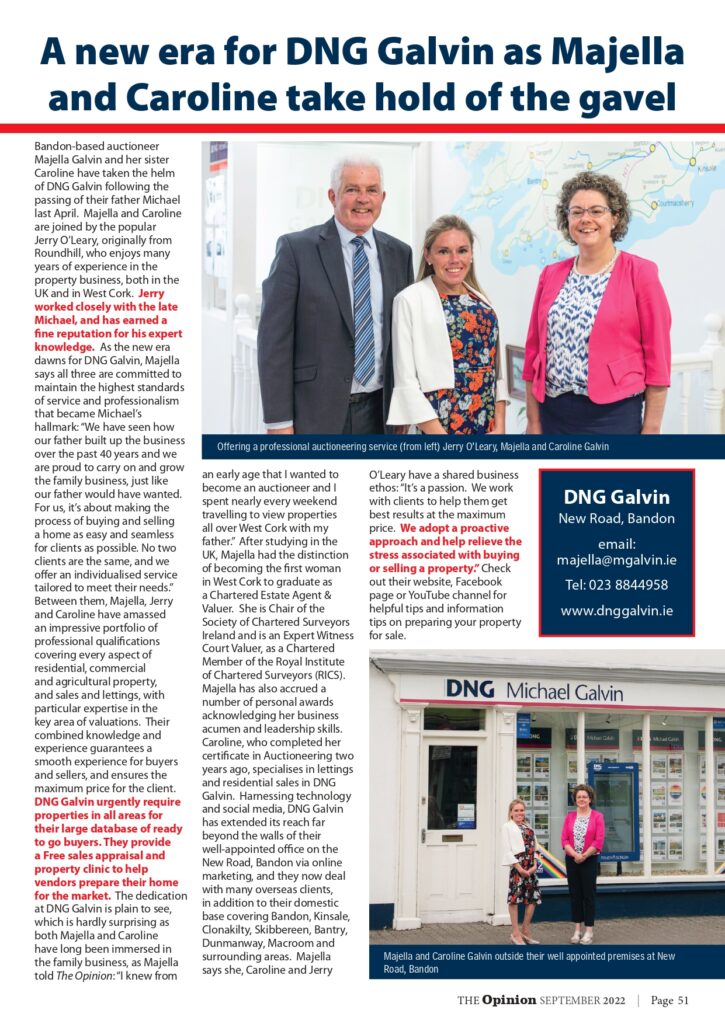 Bandon-based auctioneer Majella Galvin and her sister Caroline have taken the helm of DNG Galvin following the passing of their father Michael last April. Majella and Caroline are joined by the popular Jerry O'Leary, originally from Roundhill, who enjoys many years of experience in the property business, both in the UK and in West Cork. Jerry worked closely with the late Michael, and has earned a fine reputation for his expert knowledge.
As the new era dawns for DNG Galvin, Majella says all three are committed to maintain the highest standards of service and professionalism that became Michael's hallmark:
"We have seen how our father built up the business over the past 40 years, and we are proud to carry on and grow the family business, just like our father would have wanted. For us, it's about making the process of buying and selling a home as easy and seamless for clients as possible. No two clients are the same, and we offer an individualised service tailored to meet their needs."
Between them, Majella, Jerry and Caroline have amassed an impressive portfolio of professional qualifications covering every aspect of residential, commercial and agricultural property, and sales and lettings, with particular expertise in the key area of valuations. Their combined knowledge and experience guarantees a smooth experience for buyers and sellers, and ensures the maximum price for the client.
DNG Galvin urgently require properties in all areas for their large database of ready to go buyers. They provide a Free sales appraisal and property clinic to help vendors prepare their home for the market.
The dedication at DNG Galvin is plain to see, which is hardly surprising as both Majella and Caroline have long been immersed in the family business, as Majella told The Opinion: "I knew from an early age that I wanted to become an auctioneer and I spent nearly every weekend travelling to view properties all over West Cork with my father".
After studying in the UK, Majella had the distinction of becoming the first woman in West Cork to graduate as a Chartered Estate Agent & Valuer. She is Chair of the Society of Chartered Surveyors Ireland and is an Expert Witness Court Valuer, as a Chartered Member of the Royal Institute of Chartered Surveyors (RICS). Majella has also accrued a number of personal awards acknowledging her business acumen and leadership skills.
Caroline, who completed her certificate in Auctioneering two years ago, specialises in lettings and residential sales in DNG Galvin. Harnessing technology and social media, DNG Galvin has extended its reach far beyond the walls of their well-appointed office on the New Road, Bandon via online marketing, and they now deal with many overseas clients, in addition to their domestic base covering Cork, West Cork, Bandon, Clonakilty, Bantry, Kinsale, Dunmanway, Macroom and surrounding areas.
Majella says she, Caroline and Jerry O'Leary have a shared business ethos: "It's a passion. We work with clients to help them get best results at the maximum price. We adopt a proactive approach and help relieve the stress associated with buying or selling a property".
Source: THE Opinion, September 2022 I Page 51