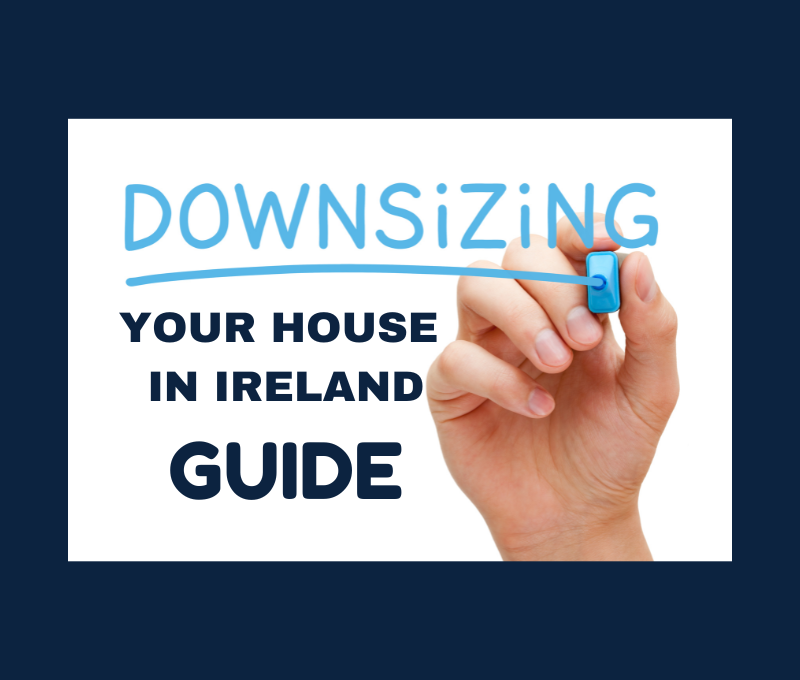 Guide to downsizing your property in Ireland
Downsizing is when you buy a smaller home than the one you currently have. This is often a decision made by those who now have an empty nest, are struggling to deal with the upkeep of their home or are finding the related costs hard to deal with.
It may just be that you are eager for a change, want to simplify your life, want to move closer to friends or family members, or want to start a new phase in life.
How do you know when you are ready to downsize?
People downsize for multiple reasons. Whilst for some it may be an empty nest and a house that requires too much upkeep, for others it may be loneliness, divorce, accessibility or the loss of a loved one that prompts the move. If you can relate to the below issues, its time for you to downsize.
Location
You want to live near a town or village with good transport links and plenty of amenities for you to have your daily walks, meet friends etc. You will be less dependant on a car and have greater security.
House is too big
Your family have left the nest and now you are living in the house with your spouse or perhaps by yourself.
Maintenance
Are you finding it challenging and time consuming to maintain your house? Maintaining a big house can be a lot of work. Between lawn care, standard maintenance and cleaning, the upkeep can leave you exhausted. It can be costly to pay someone to handle the maintenance for you and in the current climate impossible to find someone to do it. Paying others to take care of your property will increase your cost of living. By downsizing your home, you'll have more time for yourself and will be able to save more money.
Release Equity
Do you want to free up money to help a family member get on the property ladder? Or perhaps you want to travel in your retirement? Downsizing can free up money and allow you to live comfortably.
Reduce Costs of running a home
If you are living in a big old house with a low Building Energy Rating (BER) it must be hard and costly to heat. Large old properties also incur higher insurance costs, electricity and property tax.  Downsizing to a modern energy efficient home reduces cost and thereby reduces the cost of living for you.
More independence
Do you want to be independent and manage your house yourself? Perhaps you live alone and don't drive, would being able to walk to local shops and being located near transport link make you feel more independent?
Change of lifestyle
Retirement is one of the most common reasons to downsize your home. When downsizing your home for retirement you cut basic expenses and create more retirement income by moving into a smaller, cheaper property that will likely reduce your property taxes, home insurance and mortgage payments.
Even if you plan to have your mortgage paid off by the time you retire, downsizing your house could be a smart move. Having too much capital tied up in a home you don't need means less retirement savings. By selling your current home, you free up a substantial source of retirement capital.
Health or mobility
For mobility reasons it may be easier for you to live in a bungalow.
What are the benefits of downsizing?
The obvious pros of moving to a smaller home include the cost savings in heating, electricity, insurance, etc. Furthermore, if you live in an older property, moving to a more modern one will mean less time and money on maintenance.
Your home (your principal private residence) can also be sold without incurring any capital gains tax. And in so doing you can free up equity without having to take on a loan or extend a mortgage, and which can then be invested to supplement your pension income.
You become a "cash" buyer for your new home, making you an attractive prospect in a market which is already tight – you can outbid mortgaged buyers to get the home you want.
You may be living closer to family and friends
Independence – and less car dependance
Where to begin – when downsizing?
The focus is that you're starting a new phase of your life, and once you come to terms with that, it becomes exciting.
Consider what's important to you in life, is it important to stay in the same locality close to family and friends? Maybe you want a bungalow rather than climbing a stairs or perhaps you want to buy a smaller property near the coast from the proceeds of the sale of your larger property? Its so important to understand what your needs are as this really helps in your search for your net home. So get a sheet of paper and write them down!
Get a valuation of your current property – By getting a valuation of your property you will be able to budget for your next home. Book your FREE Sales Valuation here
Speak to an estate agent – At DNG Galvin we have helped thousands of people downsize over the past 40yrs. We are committed to fully understanding your needs and working with you to not alone sell your property but also help you find your next home. Contact us here
Subscribe to our monthly newsletter 'Property Watch' for market updates, sellers tips, buyers tips, new properties to the market and much more. Subscribe here
Check out our YouTube channel here
!
https://dnggalvin.ie/